Surviving the 9-to-5: Top 10 Workplace Risks and How to Combat Them
August 2023
Workplace risks and hazards are everywhere. They emerge under our noses, and we often don't spot them until it's too late because we have become accustomed to safety in the workplace.
However, this is the worst mindset to have. It is what we call safety complacency.
Risks and hazards stem from a cause, whether prolonged or short, whether through ignored warnings or miscommunication - risks have a trace.
In this blog, we will isolate the ten most common and potentially dangerous risks that could present themselves in your workplace. It's vital to spread awareness of the most common workplace risks to heighten employee safety in your workplace.
You can also download our flyer to share the top ten workplace risks, enhancing safety and awareness among your team.
---
Slips, trips and falls
Accounting for 33% of all non-fatal workplace accidents, slips, trips, and falls are the most common type of accidents and injuries. However, most overlook the severity of a slip or fall in the workplace.
The most common slips, trips and falls occur in the most used walkways. Therefore, we strongly advise organisations to take note of the standard of their most popular walking routes.
We implore organisations to ask the following questions:
Is this walkway overused? Is there an alternative route staff could utilise to reduce traffic and use in this area?
What means do staff have to immediately remedy water leaks or blockages?
Is the floor in this area potentially causing trips? (via friction with shoes, for example).
Would it be safer with a clear dual-file walking system or a handrail?
It's important to remember that organisations are commonly held accountable for any workplace slip, trip or fall - resulting in legal proceedings and a hefty fine. Ensure your workplace proactively reduces the risk of slipping, tripping, falling, or face the consequences.
Handling, lifting or carrying
Manually handling items at work can prove dangerous, especially without a well-thought-out safety protocol. According to the Health and Safety Executive, the law sets out how employers must deal with risks from manual handling. Employers, therefore, must;
Assess the risk of injury from any dangerous manual handling operations that cannot be avoided.
Reduce the risk of injury from hazardous manual handling to as low as reasonably practicable.
Hit by a moving object
The workplace can have an added element of risk with the addition of moving objects. Traditionally, moving objects integrate a further risk in the workplace due to control. To begin, employers must question;
Who has control of the moving object?
How much risk does the moving object present to staff?
Do all staff in the general vicinity know of the moving object? If not, how much further risk would this scenario present?
The majority of the time, workplace moving objects will primarily be vehicles.
Pedestrian operated pallet trucks, racks, trolleys etc., should use designated routes away from other workers where possible. The person pushing/pulling should have good visibility.
Risk assessment should consider what other work area-specific hazards may be present (e.g. rolling barrels or kegs, hoist hooks, items ejected from machines).
Violence
Violence at work can consist of;
verbal abuse or threats, including face-to-face, online and via telephone.
physical attacks
For most, violence in the workplace is something they never experience; however, it has become more and more prevalent in recent years. Its toll is only now being comprehensively analysed. Sadly, those victimised by violence in the workplace can suffer from physical injuries, stress, disability or even death.
Beyond the human level, violence can lead to increased staff sickness, poor morale, and a damaged reputation, making recruiting and keeping staff difficult. It can also mean extra costs, with higher insurance premiums and compensation payments.
We strongly recommend embedding a family culture into every organisation, a culture that promotes family values and the importance of workplace health and safety. Violence in the workplace is simply unacceptable, and by developing a professional but close-knit atmosphere, your organisation can maximise safety.
Falls from height
If you were to ask someone about the most popular risks in the workplace, the likelihood is they will say working from height.
How can we minimise the risk that comes from working with height?
Restrict the requirement for access to height, to begin with.
The need for access to height should be designed out wherever possible. For example:
For checking machinery, checking and control operating points can often be located at ground level instead of at the top.
Cleaning large machinery could be carried out from ground level using a remote cleaner, such as a jet wash.
Height, by default, adds risk. Let's try harder to minimise that risk.
One more obvious solution is to ensure safe access.
Where regular or frequent access to height is required, permanent safe access arrangements should be installed. It is widely accepted that handrails and clear, vibrant colours to contrast edges are positive starting points.
Cuts and lacerations
Firstly, ensuring an organisation has a First Aider is essential. In the UK, it is a legal requirement to have plans in place to competently administer first aid to anyone who requires it. Therefore, establishing a group of several figures from around the organisation trained in first aid is a positive first step.
Cuts and lacerations can come from anywhere and are highly volatile to predict. This means a high degree of worker foresight and understanding is required to best out-manoeuvre risks. If staff think something in their workplace could present a risk, they should proactively act on it - to keep their co-workers safe.
Common sense must prevail when it comes to the threat of cuts and lacerations. If workers are required to use sharp objects or equipment, that could be considered dangerous.
Exposure to loud noises
The HSE advises that organisations must sense check the following concerning their organisation. If any of the following applies to your organisation, you will want to evaluate whether noise is a problem for the health of your staff;
The noise is intrusive-like a busy street, a vacuum cleaner or a crowded restaurant, or worse than intrusive, for most of the working day.
Your employees have to raise their voices to have a normal conversation when about 2 metres apart for at least part of the day.
Your employees use noisy powered tools or machinery for over half an hour daily.
Your sector is one known to have noisy tasks, for example:

construction
demolition
road repair
woodworking
plastics processing
engineering
textile manufacture
general fabrication
forging or stamping
paper or board making
canning or bottling
foundries
waste and recycling

There are noises due to impacts such as:

hammering
drop forging
pneumatic impact tools

There are noises from explosive sources such as:

cartridge-operated tools
detonators
guns
Toxic fume inhalation
A rare yet extremely dangerous risk that can unknowingly be affected staff is toxic fume inhalation.
Toxic fume inhalation typically stems from inhaling the fumes of harmful chemicals or substances; however, what are these substances?
products containing chemicals
fumes
dust
vapours
mists
nanotechnology
gases and asphyxiating gases and
biological agents
These substances are covered by what is known as the Control of Substances Hazardous to Health Regulations (COSHH). COSHH requires organisations to control exposure to such substances that have been known to cause ill health.
The HSE recommend that organisations abide by the following checklist to ensure they remain compliant with COSHH;
Organisations must find out what the health hazards are
Organisations must decide how to prevent harm to health
Organisations must provide control measures to reduce harm to health
Organisations must keep all control measures in good working order
Organisations must provide information, instruction and training for workers and others
Organisations must provide monitoring and health surveillance in appropriate cases
Organisations must plan for emergencies
Crashes
Crashes are similar to being hit by the moving object section above; however, crashes solely focus on vehicle crashes from human error. Meanwhile, being hit by a moving object could be any moving object.
Crashes in the workplace are infrequent because, for the most part, those responsible for controlling vehicles must be competent drivers. However, the reality is that when crashes happen, they can often prove fatal - therefore, how do we minimise that risk even further?
We strongly suggest enrolling staff through appropriate training and licenses before allowing them to control a moving vehicle. Furthermore, how frequently is the vehicle inspected? Are there risk assessments conducted on the vehicle? Is there a marked safe route, notifying staff to stay clear?
There must be a mechanism for ensuring the reliability and safety of any moving vehicle in the workplace.
Repetitive Strains
Also known as RSIs, repetitive strains can be caused by many scenarios. Traditionally, they build up over time and are often related to musculoskeletal problems, such as poor posture from sitting at a desk for too long.
We strongly urge organisations to advise their staff to take breaks, to stretch if possible and to provide ergonomic equipment to their staff.
Don't miss our valuable poster! Discover the ten most critical workplace risks crucial for your team's safety. Share it in your office to boost awareness and create a safer environment for everyone. Download the poster now and be a proactive advocate for workplace well-being.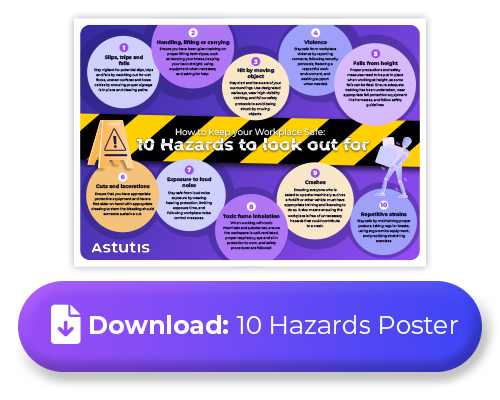 For the latest health, safety and environmental industry trends, expert insights and exclusive offers sign up to the Astutis Newsletter!
Subscribe to our newsletter
Sign up for our newsletter.
Case Studies
Real Life Stories
Find out how learners look back on their training with Astutis. Our case studies give our learners, both individual and corporate, a platform to share their Astutis experience. Discover how training with Astutis has helped past learners and delegates make the world a safer place, one course at a time.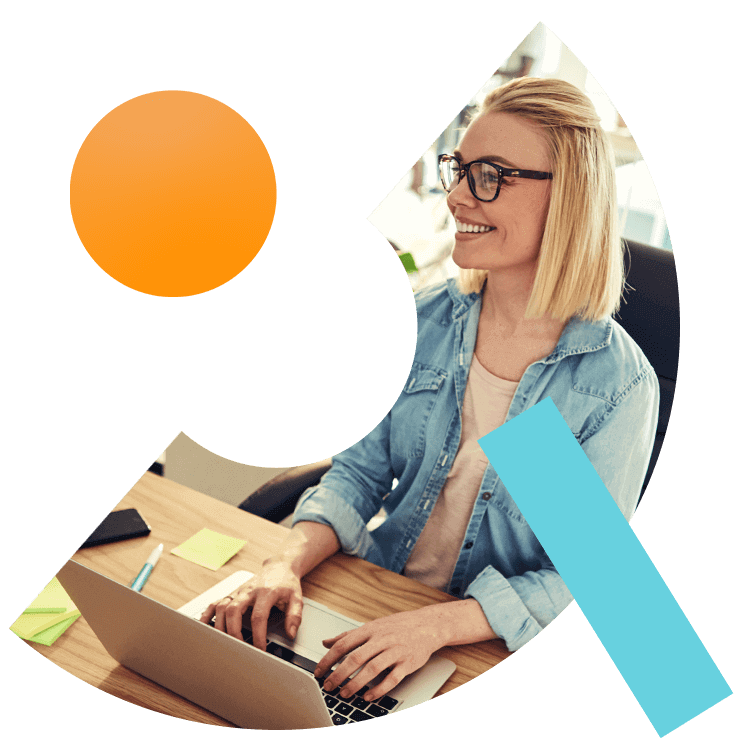 What People Say
Hear What Our Learners Have To Say
We're always there for our customers. 98% of our learners rated their overall experience as good or outstanding. We will always pride ourselves on our customer service. But don't take our word for it, here is what our customers have to say
"The "Managing Safely" course typically covers various topics such as risk assessment, hazard identification, accident investigation, legal responsibilities, and implementing control measures. It aims to enhance my understanding of health and safety management systems and empower me to create a safer working environment. By completing the course last week , I gained valuable insights into best practices for managing safety in the workplace, which can benefit both me and my organization."

14.09.2023

"Perfect training: The "Managing Safely" course with Astutis seems to have provided me with valuable knowledge and skills for improving health and safety management in the workplace."

14.09.2023

"Tutor new subject well and help in any way he could so we understand the different sections"

Tracey

17.08.2023

"Interesting and informative"

Tracey

17.08.2023

"There was no need to use the customer service as the course instructions were clear"

14.08.2023

"It was a good course, as I had not completed an exam for such a long time I found this challenging, it would have been helpful that there was more focus on how to structure the answers"

14.08.2023

"The course was good overall. Online classes can be difficult and I much prefer the classroom experience but due to circumstances and availability online was the option chosen. FSC1 was very good with lots of interaction. But no forward planning or discussion was given to FSC2. Because of a lot of experience in the fire industry and risk assessments I carried on without giving the question enough scrutiny which meant a refer and a costly resit. 5 minutes of discussion and forward planning for FSC2 would have avoided that. All that said I'm aware I took it too lightly."

Peter

10.08.2023

"A good online course, with good interaction. Be positive and be part of it. Some people sit quietly by that wouldn't happen in a classroom. Ask questions and understand, everything is there for you."

Peter

10.08.2023

"Great learning experience! Astutis was there every step of the way!"

Michelle

18.07.2023

"Actually purchased through my company - they selected a great partner"

Michelle

18.07.2023